BY DAN VALENTI
PLANET VALENTI NEWS AND COMMENTARY
Third of Three Parts
(FORTRESS OF SOLITUDE, THE WEEKEND EDITION SEPT. 3-5, 2021) — THE PLANET concludes this week's series with an opening observation.
We wrote these three columns as part of a field experiment we've been conducting. Our theory involves memory, remembrance, history, nostalgia, wistfulness, and anything to do with the shared past. Common experiences, the kind that bind societies and form cultures, get interpreted individually. As a default option, each imposes their world view upon the past. It takes awareness to do otherwise. Not many have it. What of those who claim not to have a world view? Well, that is their world view.
The Alamo has long fascinated THE PLANET. We owe that to Walt Disney. Our assessment of the battle has morphed over the decades from the romanticized play-acting of childhood to an independent verdict based on much reading and research. We have, admittedly, presented this week a "liberal" view of the events. Unlike what some think, we do it not out of ideological bias, certainly, but because it's where we think the facts reliably take us.
Along the way, we've cautioned that just because we view the Alamo not as a heroic stance for liberty but as a senseless slaughter, you shouldn't extrapolate 1836 into 2021. When we said revisionist interpretations of the Alamo run parallel to America's present-day cultural wars, some got the point. Many missed it.
THE PLANET contends you can't transplant 2021's woke values into 1836, and liberals often do. Yes, many of the men at the Alamo were slave owners. Given the time (early 19th century) and the place (Texas, Deep South), that was no more a moral issue than saying public school children should be required to wear uniforms. It's historical reality. It works the same way trying to bring 1836 into 2021, as the Neo-con right often attempts. It can't be done.
We won't take up any more space in applying this to today's racial climate or to the fallout of America's Afghanistan debacle. Rather, THE PLANET will pay you, our reader, the highest compliment by letting you work it out for yourselves. We've given you everything you need to solve the puzzle.
Now, to wrap up with Davy and the gang …
———- ooo ———-
Disney went to the Alamo to make money. His Fess Parker-Buddy Ebsen began the Crockett craze and made him a fortune in film and merchandising money. Wayne, with money from Texas oil billionaires Clint Murchison and the McCullough brothers plus the political muscle of then-Senate majority leader and future VP/President Lyndon Johnson, did it to support a cause. Both Disney and Wayne, though, were rabid jingoists who "keenly feared that the world, and Hollywood itself, was being overrun by Communists." (Forget the Alamo!, 2021)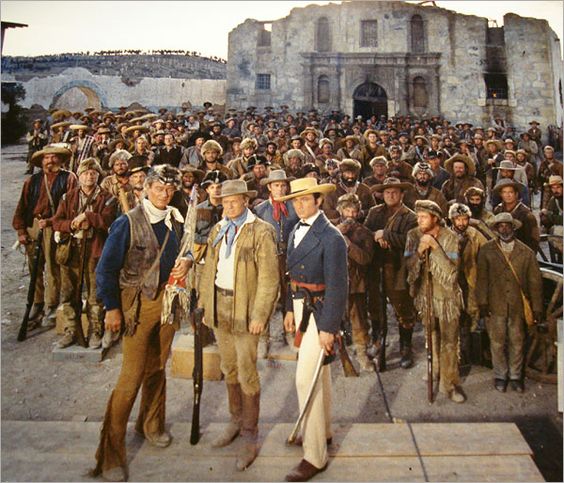 For Wayne, the Alamo myth symbolized 1950s Red Scare America. From the book: "[He] sensed a parable for uncertain times. In his eyes, Travis, Bowie, Crockett, and the rest embodied the best in American values. In Santa Anna and his soldiers, he saw the ideal villains, dark, swarthy foreigners fighting for a … dictatorship to wipe out God-fearing white Christain Americans; blink and they could have been Russian or Chinese Communists."
John Wayne's The Alamo premiered in late 1960. Wayne produced, directed, and starred in the film. He put his heart and soul into it as well as every cent he had. The authors note that Wayne's "Superstardom had left him with a messiah complex, and The Alamo was his chance to use American folklore to change the direction of the country through cinema."
———- ooo ———-
The book quotes from one of Duke's pre-production press releases: "'I want to remind the freedom-loving people of the world that not too long ago there were men and women who had the guts to stand up and fight for the things they believed in. The people of the Alamo realized that in order to live decently a man must be prepared to die decently. There were no namby-pamby pussyfoots, malingers or skedaddle in that brave band.'"
This kind of thinking pushed America into Korea, Vietnam, and the War on Terrorism.
This brings to mind a war spoof done by the writers for the great Carol Burnett in her CBS TV show in the 1970s. Burnett and her ensemble (Vicki Lawrence, Harvey Korman, and Lyel Waggoner) played out the typically silly WWII films of the era. As the opening credits rolled, we read these words: "This film is proudly dedicated to all those brave soldiers who in their small way helped John Wayne win World War II."
Wayne himself never went to war. He used his pull to duck out of the fighting, justifying it by claiming he could do more good making movies to keep up morale on the Homefront. Yeah, maybe, but the same war drew heroes like James Stewart, Robert Montgomery, Rod Steiger, Eddie Arnold, Ted Williams, Bob Feller, Hank Bauer, Ralph Houk, Warren Spahn, and so many others, who refused to pull rank.
———- ooo ———-
Despite breathtaking cinematography, one of the most accurate movie sets ever built (an exact replica Wayne built in Bracketville, Texas, still standing though in ruins), and a rousing musical score by composer Dmitri Tiomkin ("The Green Leaves of Summer"), the movie flopped financially due to jumping way over time and budget. It did achieve its goal-of myth making.
Back to real life. Not long after wiping out the Alamo, Santa Anna's army, led by Gen. Jose de Urrea, caught up with Col. Fannon at Goliad. Fannon, despite his West Point training, made a series of bad decisions, almost as many as Travis. First, he waited too long before attempting to retreat (March 19, 1936). Second, he failed to bring enough ammunition and food. Third, he retreated too slowly. Fourth, instead of directing his 400 or so troops into the woods, and had them form a square in the open prairie. Like, Travis and the men at the Alamo, he had no chance.
Fannon surrendered, and he and his men were held as prisoners of war. De Urrea recommended leniency but Santa Anna ordered the men killed as rebels. Santa Anna played for keeps. When it became clear that he would be executed, Fannon requested not to be shot in the face, that his body be returned to his family, and that his watch be sent to his wife. Santa Anna had Fannon shot in the face, body burned, and watch taken as a souvenir.
Goliad, not the Alamo, should have been the Texicans' war cry. Goliad, though, didn't possess the necessary ingredients for myth making. It lacked celebrities. The field of battle, an open plain, couldn't compare with a former mission. The myth makers acted better than anyone in the Disney or Wayne films.
———- ooo ———-
THE PLANET cautions against transposing the cultural values of 1836 and force-fitting them into today. Similarities are present, surely, but the differences outnumber them and intelligent discussion and calm debate has become impossible. We can thank the internet, social media, and 24/7 cable news, all of which, like mountain biking, weren't around in 1836.
This concludes THE PLANET's exclusive series. We hope you enjoyed it. The Comment Line is now open. Have a great weekend, everybody.
---
"If Travis had brought along enough mountain bike, the Alamo's defenders would have been good to go" — Sir Donald Turpentine, Knight of the Bath.
"OPEN THE WINDOW, AUNT MILLIE."
LOVE TO ALL.
(c) 2021 By PLANET VALENTI & EUROPOLIS MANAGEMENT. The views and opinions expressed in the comment section or in the text other than those of PLANET VALENTI are not necessarily endorsed by the operators of this website. PLANET VALENTI assumes no responsibility for such views and opinions, and it reserves the right to remove or edit any comment, including but not limited to those that violate the website's Rules of Conduct and its editorial policies. PLANET VALENTI shall not be held responsible for the consequences that may result from any posted comment or outside opinion or commentary as provided in Section 230 of the Communications Decency Act and this website's terms of service. All users of this website — including readers, commentators, contributors, or anyone else making use of its information — hereby agree to these conditions by virtue of this notice. When PLANET VALENTI ends with the words "The Usual Disclaimer," that phrase shall be understood to refer to the full text of this disclaimer.