BY DAN VALENTI
PLANET VALENTI NEWS AND COMMENTARY
(FORTRESS OF SOLITUDE, THE WEEKEND EDITION FEB. 24-6, 2023) — You recall earlier when THE PLANET took a month to research an ad vs. subscription model to provide funding to offset the costs of running this site. Unlike your officials, we sought your opinion, did our research, and came down on the side of ads. Too many people are being pickpocketed by government and business to afford the $60/yr. subscription ($5 month) price without it being a hardship. Thus, out of consideration for you, our dear readers, we have stuck with ads.
We invest all ad revenue into this site, in which we keep investing to keep it technically current, especially in the areas of data streaming and security, which, incidentally, would not be necessary if we were to shut off real-time commenting. To do that would defeat the purpose of THE PLANET, which is to share news, information, and opinion. More than other local media and MUCH more than local government, we believe that to be a two-way process. It MUST include you, We The People.
To help keep this site going and offset rising tech costs, we have launched a new fund-raising effort — the availability of a new book.
100% of the proceeds will be plowed back into THE PLANET. Here's the information on the book and how to order (amazon.com). Remember, each book sold will go entirely to keep offset our costs. Please help us out. We thank you in advance.
———- ooo ———-
THE PLANET is pleased to announce the availability of a new book by Dan Valenti, Collected Poems (1968-2023): Selected by the Author. People speak of "buying local" and "supporting the arts." Well, this would be the perfect chance to do both.  The book is available in paperback and ebook form, and I shall be glad to sign any copies purchased.
Here is the press release:
NEW BOOK PRESENTS CAREER-SPANNING
POETRY OF BERKSHIRE WRITER VALENTI
(PITTSFIELD, MA, FEB. 22, 2023) — Planet Media Books announces the publication of COLLECTED POEMS (1968-2023): Chosen By the Author by Berkshire-based writer Dan Valenti. The book is on sale now at amazon.com and at bookstores everywhere.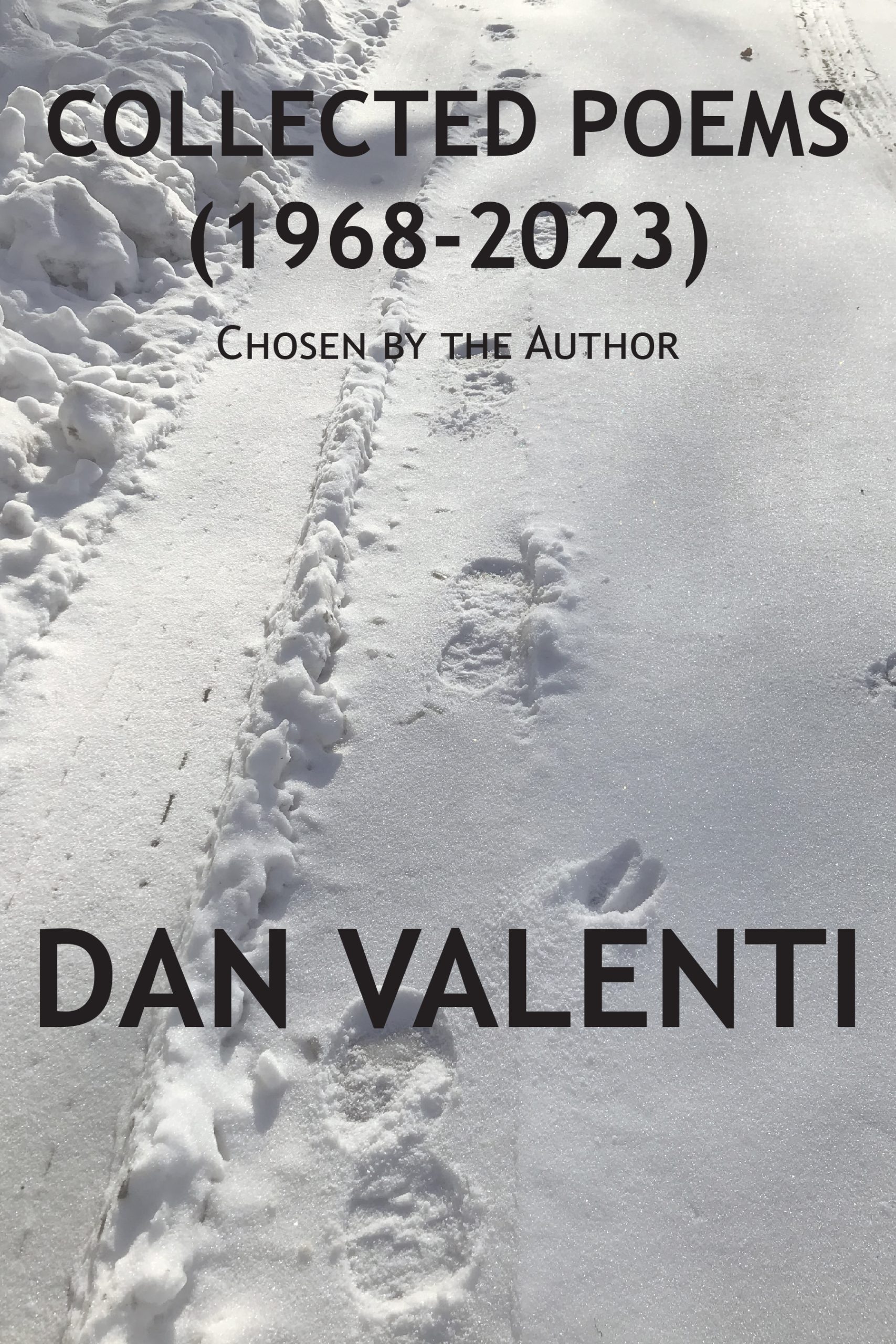 The 300-page volume brings to print 232 of Valenti's poems, the earliest of which were written in 1968 and represent Valenti's earliest examples of published writing. The volume include poems written this year, with works from the 55 intervening years, both published and heretofore unpublished. 
"This sampling shall be one of my legacies as a writer, Valenti said. "Before I became a journalist and author, I was a poet, a form I fell in love with as a boy, pursued through my graduate and post-graduate studies, and continued today.
"Compiling this collection meant going through the contents of many hanging files, large envelopes, manuscript pages, magazines, and random jottings," Valenti said. Some hadn't been looked at in years. Others were more familiar.
"My poems are first written as a personal reaction to some happening in my life, be it something happening to me, to someone else, or through observation of an event that — on the surface, at least — doesn't directly involve me. Then the 'John Donne thing' kicks in. We are not islands. We are, perhaps, peninsulas, and everything is interconnected, what the great Vietnamese Buddhist monk Thich Nhat Hanh called "interbeing." He said that joy can be the source of your smile, but that the smile can itself become a source of your joy. Poets know that. They probably know it even more deeply when it comes to sorrow and tears."
From the back cover: "This collection spans 55 years in the work of Dan Valenti, one of America's most accomplished poets and writers. In this definitive gathering, Valenti selects poems from the years covering the late 1960s up to today. These works provide personal perspectives of the times, of the people, and of the poet."
This is the third book I have had published in a year, after THIRD PERSON SINGULAR (PMB released February 2022) and WRITE IT REAL: A Practical Guide for the Prose Writer (Lang, August 2022).
———- ooo ———-
A Short Hop to the Fight Against 'Big'
Planet Media Books is an independent press founded in 2011. Like THE PLANET, the press represents a pushback against Big, as in Big Tech, Big Business, Big Publishing — the inexorable trend for a few mega companies to control various industries. This is the case now in traditional publishing. Behind our efforts is the absolute belief in a free press, which is the most important safeguard to free institutions.
Speaking of which, check out this excerpt from Simon Heffer, published Wednesday in The Telegraph:
The Supreme Court is hearing two cases this week that could redefine the rules of online speech and content moderation. The two cases deal with how social media companies have handled terrorist content and argue the companies should be held responsible for their algorithms.
At the heart of Gonzalez v. Google is Section 230 of the Communications Decency Act—regulations that treat internet companies as publishing intermediaries, meaning they are not liable for content others post (see background). The case argues Google violated US antiterrorism law when YouTube's algorithms featured ISIS content as recommended videos. If the court rules against Google, it could force tech platforms to fundamentally change their ranking algorithms or engage in aggressive content moderation.
The other case, Twitter v. Taamneh, argues Google, Twitter, and Facebook violated US antiterrorism law by knowingly enabling ISIS to maintain some of their content on their platforms, despite company policies to limit it.
A ruling in the cases is expected this summer.
———- ooo ———-
Free Speech Threatened; What Are We To Do?
On the same day, the Boston Herald, on its editorial page, ran this:
George Orwell, to whom the Thought Police (a term he invented in Nineteen Eighty-Four) have yet to apply themselves, wrote in that very novel of a Britain in which "every record has been destroyed or falsified, every book rewritten, every picture has been repainted, every statue and street building has been renamed, every date has been altered. And the process is continuing day by day and minute by minute. History has stopped. Nothing exists except an endless present in which the Party is always right."
We have arrived at our own endless present, or Year Zero, where the record, historical and otherwise, is readily falsified. Its rules are designed to prevent what that arrogant and self-regarding minority who feel obliged to police and alter the thoughts of the rest of us consider the ultimate crime: giving offence. Most of us have spent our lives encountering things that could, if we wallowed in self-regard, offend us deeply. We were trained to ignore them and get on with life. Now, suddenly, we cannot be trusted to do that.
Therefore books, art, films and television programmes must be censored or suppressed, statues taken down as though the lives they commemorate never happened, streets and buildings renamed to eradicate thought criminals. Like Pol Pot, that minority feels a moral duty to erase the past to attain Year Zero. Sadly for us, their main qualifications are an overbearing self-righteousness, a profound ignorance of history and a deep misunderstanding of the idea of liberty that few of us share.
———- ooo ———-
The encroachments on free speech are no more chilling than in America. If unchecked, the USA's headlong rush to implement 1984 will result in the collapse of this great experiment in representative government. We must not let it happen.
Have a great weekend, everybody.
————————————————————————————-
"Politics is nothing more than the organized manifestation of systematic hatreds" — Sir Donald Turpentine, Knight of the Bath.
"OPEN THE WINDOW, AUNT MILLIE."
LOVE TO ALL.
Copyright (c) 2023 By Dan Valenti, PLANET VALENTI and EUROPOLIS MANAGEMENT. All rights reserved. The views and opinions expressed in the comment section or in the text other than those of PLANET VALENTI are not necessarily endorsed by the operators of this website. PLANET VALENTI assumes no responsibility for such views and opinions, and it reserves the right to remove or edit any comment, including but not limited to those that violate the website's Rules of Conduct and its editorial policies. Those who leave comments own all the responsibilities that are or can be attached to those comments, be they rhetorical, semantic, or legal. Such commentators remain solely responsible for what they post and shall be and remain solely accountable for their words. PLANET VALENTI shall not be held responsible for the consequences that may result from any posted comment or outside opinion or commentary as provided in, but not limited to, Section 230 of the Communications Decency Act and this website's terms of service. We serve as a marketplace of ideas, without prejudice and available to all. All users of this site — including readers, commentators, contributors, or anyone else — hereby agree to these conditions by virtue of this notice and their use of/participation in this site. When PLANET VALENTI ends with the words "The Usual Disclaimer," that phrase shall be understood to refer to the full text of this disclaimer.