BY DAN VALENTI
PLANET VALENTI NEWS AND COMMENTARY
(FORTRESS OF SOLITUDE, WEDNESDAY JULY 26, 2023) — THE PLANET opens today with important housekeeping news.
THE WEEKEND EDITION, which normally posts late Thursday night, shall be published earlier, in the late morning or early afternoon. The following week, we shall be on our shutdown. Like the old GE July shutdown, it shall be for two weeks. Consequently, there will be no PLANET for the weeks of Aug. 7 and 14.
The break will accomplish two important tasks. For us, downtime and respite from this board. We shall be far away, in a remote location, de-stressing (not distressing) while typing away at a pressing book deadline.
For THE PLANET itself, our technies shall be doing work backstage, mainly installing new technical parameters and platforms that will enable us to keep up with the blinding speed of all things internet, mostly for security and speed issues. Your experience with this board must be kept up to date with the technical blitz that bombs us in every waking moment.
We plow back our profits into this public service. It's called putting your money with your mouth is, the opposite of what politicians do in Picklefield. They put your money where their pockets are. Speaking of politicians …
———- ooo ———-
… let's look at a different aspect of Picklefield's Campaign '23, where municipal offices will be on the ballot, headlined, of course, by the mayor's race.
Before getting to that, we'll let you know that THE PLANET is in the middle of the arrangements — a debate — that will culminate on Friday, Sept. 15, prior to the Tuesday, Sept. 19 preliminary election. On that Tuesday, the  ballot will be finalized. Of Peter Marchetti, John Krol, and Karen Kalinowsky, two will move on to November and one will stay back to "Nice try. Come again some other time. Don't let the door hit you on the way out."
Now for that something different.
Do you ever think about a campaign's promotional materials? We speak of the necessary detritus that comprise the sad adjuncts of making a serious bid for public office: signs, cards, stickers, brochures, and so forth. What colors do they choose? What words and slogans? What pictures? What does it all mean?(don't tell anyone, but THE PLANET secretly yearns for someone to bring back imprinted emory boards. Hey, they worked forever for Peter Arlos).
And before we hear the cliche, "Lawn signs don't vote," stuff it. No, they don't vote, but according to most all the reliable research, they DO influence the vote. In a close election, things like lawn signs, palm cards, and the rest of to can tip the scales. As for candidates who have none of this? Forget them. They're punching above their weight class.
With that in mind, we present examples of each current handouts from the Marchetti and Krol campaigns. As best as we can determine, Kalinowsky has printed up or sent out anything. If that's not the case, we shall be glad to be corrected. [NOTE: The second Krol flyer wouldn't not upload due to formatting issues].
We submit the items without comment, leaving our readers to decipher and parse these mini-billboards. What do they say to you? Consider the words, colors, layout and design, photos — anything that you think provides information. Who has the better presentation?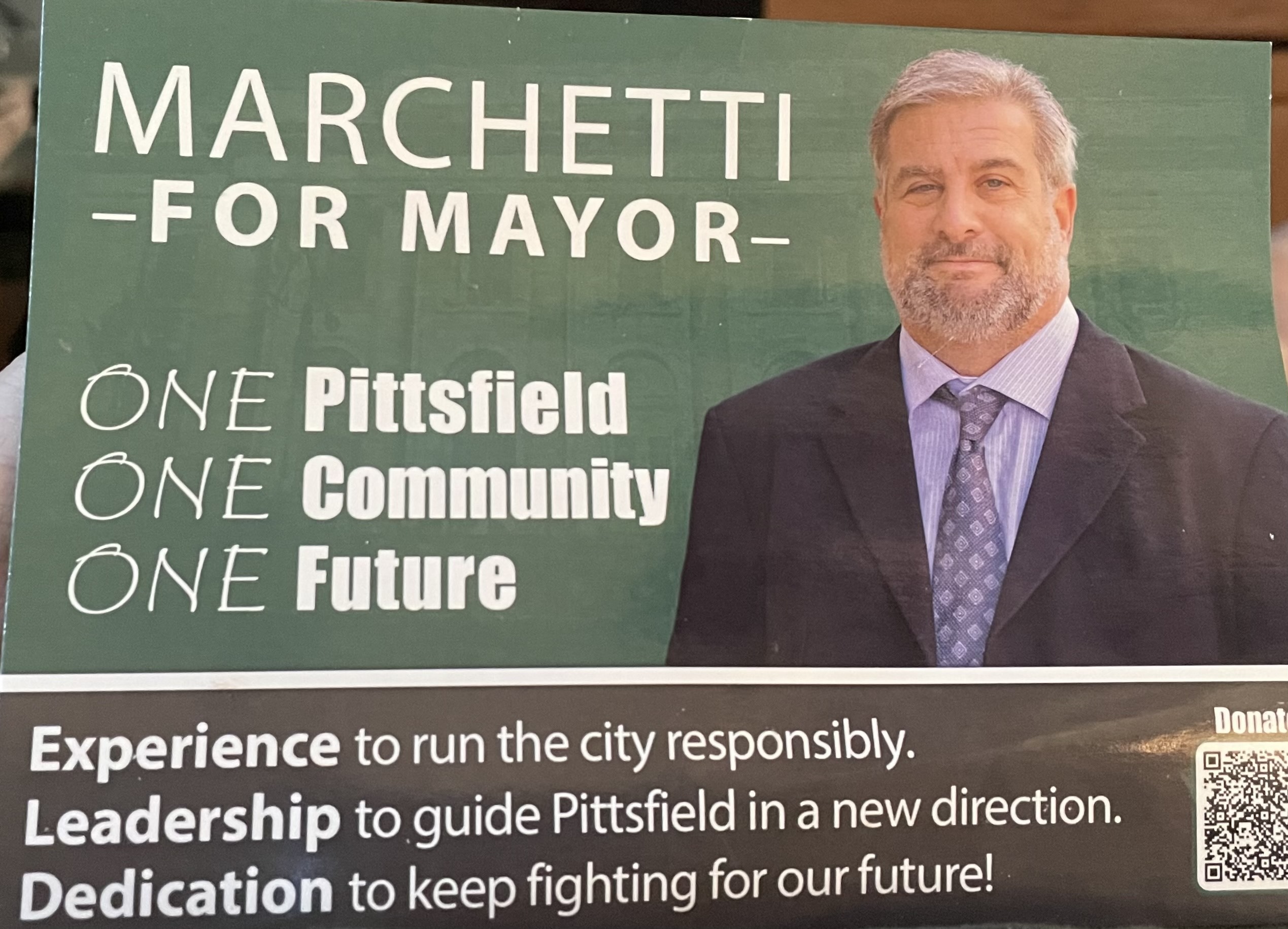 ---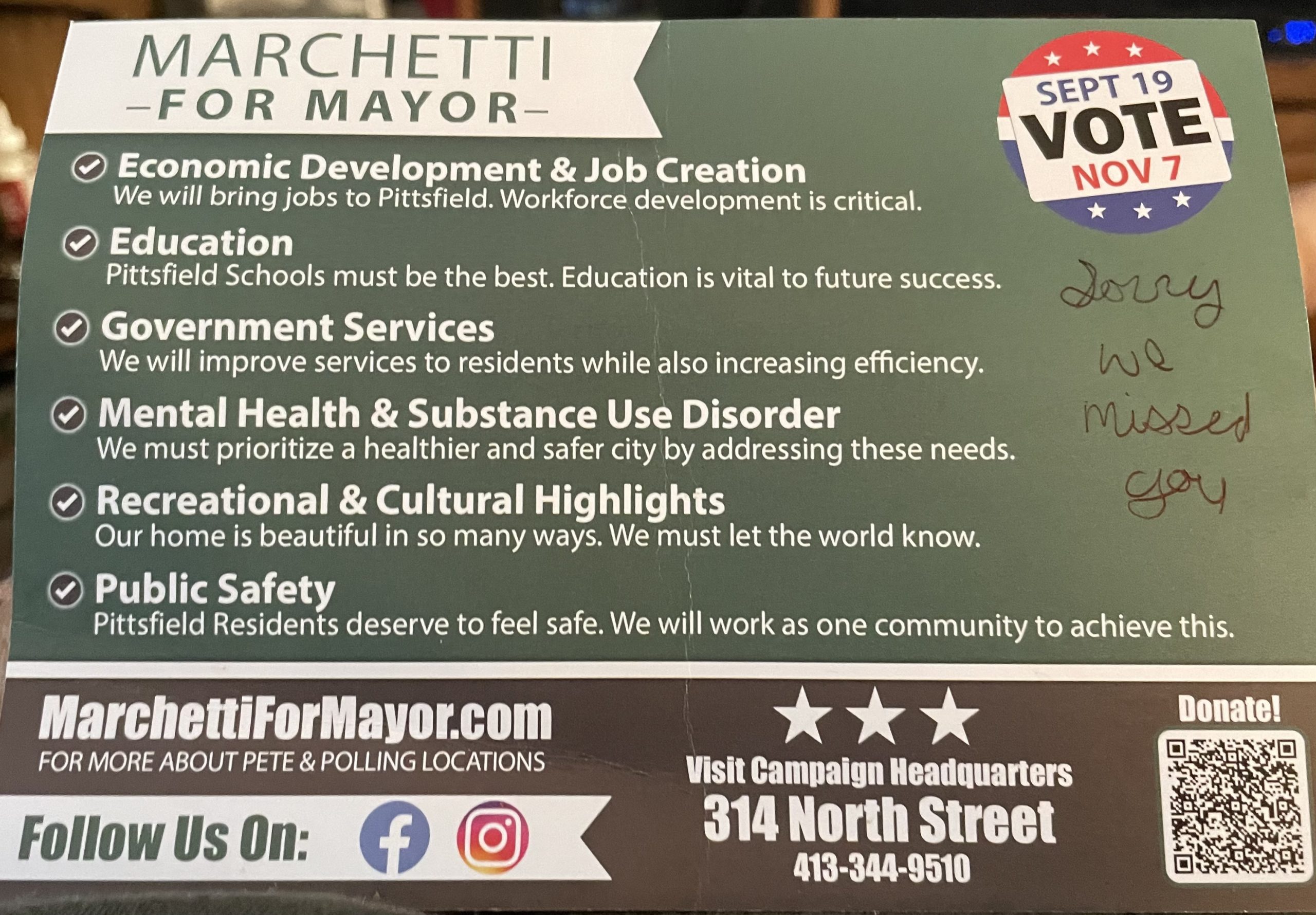 "I once saw a lawn sign vote; it was for a write-in candidate!" — Sir Donald Turpentine, Knight of the Bath.
"OPEN THE WINDOW, AUNT MILLIE."
LOVE TO ALL.
Copyright (c) 2023 By Dan Valenti, PLANET VALENTI and EUROPOLIS MANAGEMENT. All rights reserved. The views and opinions expressed in the comment section or in the text other than those of PLANET VALENTI are not necessarily endorsed by the operators of this website. PLANET VALENTI assumes no responsibility for such views and opinions, and it reserves the right to remove or edit any comment, including but not limited to those that violate the website's Rules of Conduct and its editorial policies. Those who leave comments own all the responsibilities that are or can be attached to those comments, be they rhetorical, semantic, or legal. Such commentators remain solely responsible for what they post and shall be and remain solely accountable for their words. PLANET VALENTI shall not be held responsible for the consequences that may result from any posted comment or outside opinion or commentary as provided in, but not limited to, Section 230 of the Communications Decency Act and this website's terms of service. We serve as a marketplace of ideas, without prejudice and available to all. All users of this site — including readers, commentators, contributors, or anyone else — hereby agree to these conditions by virtue of this notice and their use of/participation in this site. When PLANET VALENTI ends with the words "The Usual Disclaimer," that phrase shall be understood to refer to the full text of this disclaimer.