ADD 1, OCT. 28, P.M. — THE PLANET has unearthed bombshell allegations against mayoral candidate and Pittsfield Co-Op VP Peter Marchetti, Co-Op president Jay Anderson, and bank VP Harry Moore.
THE PLANET has dug up the complaint of Co-Op VP Victoria May, who was fired by the bank in February. She alleges that Marchetti and the other defendant subjected her and other Co-Op female employees to a shocking harassment campaign.  May creates a picture of a workplace, she says, where the defendants watched porn in the office, drank alcohol on the job, and took part in other gross actions against her personally and other women.
This, of course, has SERIOUS implications for Marchetti's bid to be Picklefield's next mayor. If the allegations are true, this election is decided right now.
May accuses Marchetti of dreaming bouts, where he "flew off the handle, irrationally upset" … He began yelling, red-faced and sweating, pointing in Plaintiff's face, calling her a bitch and other derogatory names, told her to shut up, and told her she did not know how to do things."
THE PLANET shall be presenting full coverage beginning on Monday, when we shall publish the full text of May's complaint. 
We have a request for comment into Marchetti and his opponent John Krol. We're also trying to reach Anderson, Moore, and May.
We welcome your comments.
BY DAN VALENTI
PLANET VALENTI NEWS AND COMMENTARY
(FORTRESS OF SOLITUDE, THE WEEKEND EDITION OCT. 27-9, 2023) — Funny how one of the biggest stories of Campaign '23 has come and gone, like a gang-banging flash mob raiding Tiffany's.
THE PLANET speaks of the ARPA audit.
The story — downplayed by the woeful local daily, given more proper due by iBerkshires, and featured on THE PLANET — works on two levels. First, we have the error itself, "only" a quarter of a million of taxpayer funds. To the presently entrenched skunks, this is no big deal. Second and more deeply, we have a larger indictment of Picklefield's lack of oversight and accountability.
Both levels coexist within and are exemplified by the entire ARPA fiasco, from the moment when the mayor nominated "the usual suspects" ("retired" scammers Deanna Ruffer and Gina Armstrong) to oversee an advisory board consisting of drinkers of Administrative Kool-Aid.
Not a good combination.
Next, to worsen the situation, the mayor kept the advisory-board deliberations S-E-C-R-E-T. We did not hear a peep from council president and mayoral candidate Peter Marchetti or from any of the six rubber stampers who have officially endorsed Marchetti's candidacy: They be the new Gang of Six, Dumpster Earl, Porkchop Pete, Conant the Barbarian, Kave-In Kavey, Dina Climate-Change, and Tony Mofo (aka MIA Tony). Talk about Gang Grene.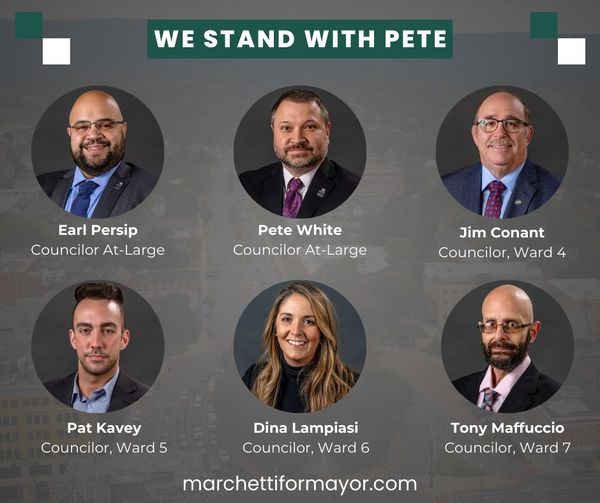 Take a look at this campaign card and see if it doesn't put you off your toast.
This kiss-butt card's trying to bring back "slate" voting from the mummy's tomb. As one public official told THE PLANET, "I'm glad the Gang of Six published this. It's a handy guide to showing people who NOT to vote for."
———- ooo ———-
Here's the a relevant story about the first round of  ARPA giveaways:
The freeloaders, er "worthy organizations," to receive "free" money included:
• Berkshire Black Economic Council (BBEC): $700,000 – to establish organizational operations and capacity to offer technical assistance, educational workshops, and networking sessions for Pittsfield's black entrepreneurs and black-owned businesses. Picklefield's grift of all grifts.
• Berkshire Immigrant Center: $80,000 – for the expansion of legal and educational services for immigrants living in Pittsfield. For "immigrants" read "illegals," law breakers living off the Kapanskis.
• Rites of Passage & Empowerment Program: $550,000 – to increase organizational capacity and expand programs for young women of color ages 12 to 18. If you be white or Asian, forget about it. How is that not racist?
These grants, whose paperwork remains sealed in a mayonnaise jar on Funk and Wagnall's porch, have created jobs alright, snow jobs and con jobs.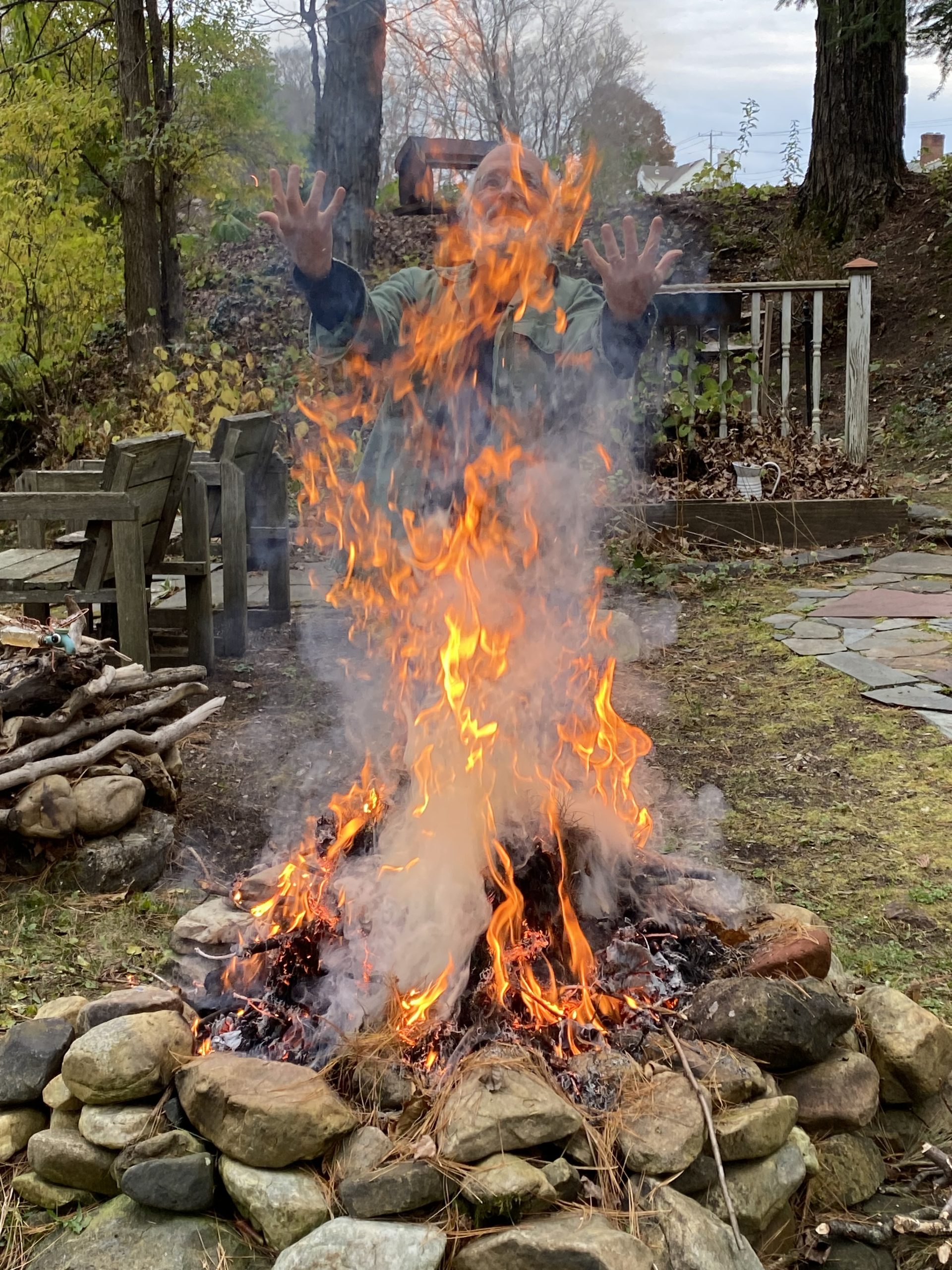 ———- ooo ———-
The $250,000 was a discrepancy between report to the Treasury Department and the city's ledger, the responsibility for which falls with city finance director Kufflinks Kerwood and Marchetti. Each violated the city charter in not provided the reports and not scheduling a meeting to review the audit.
On this basis alone, Marchetti shows his unsuitability for mayor. As for Kufflinks, John Krol said he's kaput should Krol be elected. As usual on most topics, Marchetti doesn't make his position known.
"Errors happen. I get it, but there are serious red flags in all of this," said Krol. "It is worrying that an external auditor found errors in our internal process in the accounting of ARPA funds. That's why I've called for an overhaul and strengthening of the auditing process. But, what's far more disturbing is that city leadership has not done the very basics to bring this to light. First and foremost, the administration did not share this audit with the city council back in March when the report was completed. If that's not bad enough, the city then failed to follow the simple mandate of the city charter and hold the annual joint meeting to review this audit. This shows a serious lack of transparency, which is exactly the concern so many residents in our city have with the status quo in city hall."
Have a great weekend, everybody.
——————————————————————
"Turn your back on the skunks, and they'll sure enough spray you" — Sir Donald Turpentine, Knight of the Bath.
"OPEN THE WINDOW, AUNT MILLIE."
LOVE TO ALL.
Copyright (c) 2023 By Dan Valenti, PLANET VALENTI and EUROPOLIS MANAGEMENT. All rights reserved. The views and opinions expressed in the comment section or in the text other than those of PLANET VALENTI are not necessarily endorsed by the operators of this website. PLANET VALENTI assumes no responsibility for such views and opinions, and it reserves the right to remove or edit any comment, including but not limited to those that violate the website's Rules of Conduct and its editorial policies. Those who leave comments own all the responsibilities that are or can be attached to those comments, be they rhetorical, semantic, or legal. Such commentators remain solely responsible for what they post and shall be and remain solely accountable for their words. PLANET VALENTI shall not be held responsible for the consequences that may result from any posted comment or outside opinion or commentary as provided in, but not limited to, Section 230 of the Communications Decency Act and this website's terms of service. We serve as a marketplace of ideas, without prejudice and available to all. All users of this site — including readers, commentators, contributors, or anyone else — hereby agree to these conditions by virtue of this notice and their use of/participation in this site. When PLANET VALENTI ends with the words "The Usual Disclaimer," that phrase shall be understood to refer to the full text of this disclaimer.