BY DAN VALENTI
PLANET VALENTI NEWS AND COMMENTARY
(FORTRESS OF SOLITUDE, THURSDAY, JAN. 22, 2016) —  On Dec. 15, 1960, pitcher Frank Sullivan was involved the Biggest Trade in Baseball History when the Boston Red Sox sent him to the Philadelphia Phillies for Gene Conley. Why was it the biggest? Sullivan stood 6'7" tall, with Conley hitting the 6'8"mark.
Conley, of course, was no stranger to Boston. As one of the uber-rare two-sport professional athletes, Conley backed-up the great Bill Russell as a center for the Boston Celtics  from 1958 to 1964. From 1871 to the conclusion of the 2015 baseball season, 18,633 men have played major league baseball. Add in all the men who have played in the NFL, NHL, and NBA, and you're talking somewhere around 50,000 players. Of that total, only two have won world championships in two of the sports: Otto Graham and Conley, who won three titles with the Celtics ('59, '60, '61) and one with the Milwaukee Braves (1957).
THE PLANET once shared breakfast and coffee with Conley in Wayland, and he regaled us with the stories and laughs of a born raconteur, including his famous drunken attempt with Pumpsie Green to board a plane to Israel to teach baseball to Jews.

We met Sullivan at Fenway Park at an Old Timers' Game in the mid-80s. He had us laughing about some of his antics, including the model racing set he bought that became an obsession with a bunch of guys on the '59 team. We also talked about his trip to Stockbridge in the mid-'50s as one of the Red Sox ballplayers to model in Norman Rockwell's famous painting, "The Rookie."
Sully told us something few people know. He appeared as himself in the painting, but, since Ted Williams didn't make the trip east, he doubled as Ted's stand-in. Jackie Jensen, Sammy White, Maurice McDermott, and Billy Goodman also posed.
He remembered Rockwell as "skinny and tiny, a very nice guy. Prior to the session, Rockwell bought the players lunch.
"He didn't buy us a beer, though. Imagine. We finally get the day off, and we can't even have a beer."

Sullivan loved a good joke, and he possessed a refreshing, one might say quirky, take on life. He was a lefty trapped in a righty's body.  Thus it saddened THE PLANET to learn of Franklin Leal Sullivan's passing yesterday. There are too many stories to share, but we are blessed to have them.
Here's the information as it came to us from the Red Sox:
RED SOX MOURN THE PASSING OF FRANK SULLIVAN
Two-Time All-Star Spent Eight Years as Red Sox Pitcher from 1953-60
BOSTON, MA—Frank Sullivan, a two-time All-Star and a Red Sox Hall of Famer, passed away yesterday in Lihue, HI due to complications from pneumonia at 85 years old.  He was four days shy of his 86th birthday.
One of the Red Sox players immortalized in Norman Rockwell's iconic 1957 painting, The Rookie, Sullivan had a 90-80 record and 3.47 ERA in eight seasons for Boston from 1953-60.  Over his first five years in the Red Sox rotation from 1954-58, the right-hander was one of the top American League pitchers, ranking second with 153 starts, third with a 3.13 ERA, and fourth with 74 wins.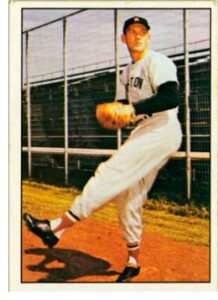 He led the team in ERA in four straight seasons from 1954-57, one of only five Red Sox pitchers ever to accomplish the feat.  The others are Roger Clemens (7 seasons, 1986-92), Mel Parnell (5 seasons, 1948-52), Lefty Grove (5 seasons, 1935-39), and Cy Young (5 seasons, 1901-05).  In 1955, 1956, and 1958, he served as Boston's Opening Day starting pitcher.
Sullivan was inducted into the Red Sox Hall of Fame in 2008, 60 years after originally signing with the team in 1948.  Following a two-year stint in the Army during the Korean War in 1951 and 1952, he rose from Single-A Albany to the Red Sox bullpen by mid-1953 for his big league debut.  A year later, the 24-year-old rookie joined the rotation and was credited with a team-best 15 of Boston's 69 victories.
The 1955 season saw Sullivan go 18-13 with a 2.91 ERA and earn his first All-Star selection. He led the American League in wins (tied), innings (260.0), and starts (35) while ranking fifth in ERA.  His 1956 season featured a second straight trip to the All-Star Game, and in 1957 he led the majors in WHIP (1.06) and again placed fifth in the AL with a 2.73 ERA.
Traded to the Philadelphia Phillies after the 1960 season, Sullivan left the Red Sox ranked fifth among pitchers in team history with 201 starts.  His final stop was with the Minnesota Twins from mid-1962 to 1963, where he pitched under manager Sam Mele, a Red Sox teammate from 1954-55.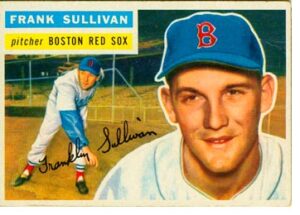 Born in Hollywood, CA and raised in nearby Burbank, Sullivan spent the last half-century living on Kauai, a Hawaiian island, and served as director of golf for a number of courses.  His book, Life is More than 9 Innings: Memories of a Boston Red Sox Pitcher, was published in 2009 and contains a series of autobiographical short stories.  He last visited Fenway Park in 2014.
 Sullivan is survived by his wife Marilyn, son Mike, daughter-in-law Leihina, grandson Kapono, and granddaughter Kea, as well as his son Mark, and granddaughters Summer and Lauren.
— RED SOX —
As you can see, Sullivan had a lot of talent. Had he been playing today, he would be making $15 million to $20 million a year. The money, however, doesn't matter. It's who he was that counts — a man who lived life on his own terms, a free-spirit in the buttoned down, conformist 50s. RIP, Sully.
——————————————————————————————
"What elephant?" — Jimmy Durante, (1935).
"OPEN THE WINDOW, AUNT MILLIE."
LOVE TO ALL.
The views expressed in the comment section or opinions published within the text other than those of PLANET VALENTI are not those of PLANET VALENTI or endorsed in any way by PLANET VALENTI; this website reserves the right to remove any comment which violates its Rules of Conduct, and it is not liable for the consequences of any posted comment as provided in Section 230 of the Communications Decency Act and PLANET VALENTI's terms of service.