BY DAN VALENTI
PLANET VALENTI NEWS COMMENTARY
ADD 1 — Tomorrow, THE PLANET will post the first in a two-part series dealing with the mayoral race results. As you know, mayor Linda Tyer won re-election by 529 votes. Nearly 12,000 votes were cast. A 265-vote swing would have reversed the outcome, triggering a certain recount. As it is, the wires and the street have been dishing out red-hot scuttle about numerous alleged "voting irregularities" that took place on Nov. 5. We are investigating and will present our findings beginning tomorrow. You own't want to miss it.
(FORTRESS OF SOLITUDE, MONDAY NOV. 11, 2019) — On this Veteran's Day, we salute everyone who took up the cause. It's a tiresome cliche to say that those who died in war did so for our freedoms, which aren't free. Ask any combat vet, especially those who killed, saw men killed, or lost a buddy. They don't romanticize wasted life in that manner, and make no mistake: Every life ever lost to war died in vain. All sides. All wars. All "holy causes."
We also play up the "hero" business too much, too easily, and too freely. Ask any vet if he consider himself a hero, and you'll get a "no" for an answer. He either answered a call forced upon him or volunteered. We should honor their own self-assessments and praise, instead, their honor, valor, and humility. That said, THE PLANET cannot look upon anyone who made deep personal sacrifices to serve in the military without a sense  of awe and respect.  It is, we grant, in  the  same  zip code  as  heroism.
The soldier hits the  battlefield scared, as fearful as he will ever be. The odds of death or injury will never be higher. The possibility is there to be blown into atoms, to have your limbs vaporized, to have your face blown off in a thoughtless instant. That's war. The guy in the foxhole doesn't think about The Grand Cause. He's praying a mortar round doesn't land on him. What about the G.I. who clamored out of a Higgins boat on D-Day and got cut down by machine gun fire before he could take two steps? What do you think was going through his mind? Or the lad who came home sightless or legless? You can visit him in a Vets' Hospital and ask him about Freedom, Heroism, and The Cause.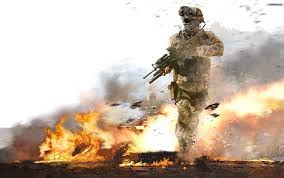 Or maybe you should just watch a film, say, All Quiet on the Western Front ... Johnny Got His Gun … Apocalypse Now … The Deer Hunter … or the most devastating of all, Kubrick's Paths of Glory.
Veteran's Day can only be appreciated with proper perspective. Abandon thoughts of trumpets and glory. Forget the pomp but honor the circumstance by making it sacred. It is the one power we have after the politicians and the greedy have plunged us into and out of war (an "out" that seems always temporary). We can raise a moment into an exaltation that comes not from some Bearded Big Daddy in the Sky but from our Selves, our Souls. That is Veteran's Day to us, the power of a blessing over a profanity.
War makes no sense.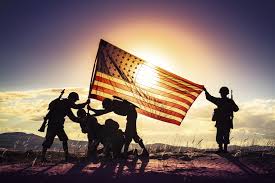 Yet, try to stop it. To bend a phrase of H.L. Mencken, one might as well try to stop a cattle stampede by blowing an E on a clarinet. What drives us away from love and reason? What impels us toward hatred and irrationality? Writers, musicians, painters, and artists of every stripe have grappled with this question since Peter Arlos was knee high to Pericles. The Divine Edgar, Mr. Poe, attributed it to the "Imp of the Perverse," that being inside us that bids us pick fruit from the forbidden tree. Catholics call it Original Sin. For Buddhists it's the deluding power contained in illusion, or Maya.
THE PLANET won't plunge the depths. We only ask that on Veteran's Day, keep in mind the PEOPLE who served, not the nations or causes that bound them to rank and uniform. We honor their sacrifice.
With that, we now open The Comment Line for your thoughts.
————————————————————————————————————-
"When the peace treaty is signed, the war isn't over for the veterans or their families" — Sir Tiberius Fruitjuice.
"OPEN THE WINDOW, AUNT MILLIE."
LOVE TO ALL.
The views and opinions expressed in the comment section or in the text other than those of PLANET VALENTI are not necessarily endorsed by the operators of this website. PLANET VALENTI assumes no responsibility for such views and opinions, and it reserves the right to remove or edit any comment, including but not limited to those that violate the website's Rules of Conduct and its editorial policies. PLANET VALENTI shall not be held responsible for the consequences that may result from any posted comment or outside opinion or commentary as provided in Section 230 of the Communications Decency Act and this website's terms of service. All users of this website — including readers, commentators, contributors, or anyone else making use of its information, hereby agree to these conditions by virtue of this notice. When PLANET VALENTI ends with the words "The Usual Disclaimer," that phrase shall be understood to refer to the full text of this disclaimer.