BY DAN VALENTI
PLANET VALENTI NEWS AND COMMENTARY
(FORTRESS OF SOLITUDE, WEDNESDAY APRIL 14, 2021) — In Monday's column, THE PLANET mentioned some facts and feelings elicited by the heartbreaking case of 10-month-old Kristoff Zenopolous, who died while in the care of his foster parents, Matthew and Cassandra Tucker.
A grand jury investigated and came back with enough evidence to give District Attorney Andrea Harrington reason to prosecute. Harrington charged the Tuckers  with involuntary manslaughter and reckless endangerment in connection with the baby's death. The Tuckers have denied the charges.
The determinations of law will settle the matter, and we must allow justice to seek its own level in this emotional case.
Tucker is a self-admitted former Wiccan — Wicca, as in witchcraft.
Tucker confessed his occultist past in an article published a few years ago by the Marian Fathers on Eden Hill in Stockbridge. The article can be accessed here:  The Long Road Home | Marians of the Immaculate Conception . It comes complete with a video of Tucker.
The article describes Tucker's journey from feeling worthless and unworthy to contempt for the Catholic faith to Quakerism to pantheism to full-blown witchcraft and a finally return "home" to orthodox Roman Catholicism. This dizzying journey hints at either a genuine conversion experience or a deep inner discomfort in the man, the kind self-loathing can induce. The changes also constitute an alarming "180" going from witchcraft's paganism to daily Rosaries and evangelism.
These predilections address character issues, and in a case such as this one, character becomes relevant for the way it informs choices, actions, and inactions.
THE PLANET's experience with this type of religious about-face falls into the same category as "conversions, death bed." While such conversions can be authentic, they should raise a red flag because sometimes, the "born again" person has merely replaced one existential addiction with another.
The article also described Tucker as a "… father of two who dutifully, happily ensures his children receive proper spiritual formation."
His children? What children? Does this refer to Tucker's own biological kids or to the suspiciously high number of foster kids he and his wife have taken into their home? It doesn't say, but if it's the former, where are those kids now, given that after their indictment and arraignment in court, the judge released the Tuckers to their own personal recognizance sans bail. No child should be allowed near these two, not as long as they have manslaughter and reckless endangerment charges looming. Should the Tuckers beat the rap, perhaps the matter can be reconsidered.
A close observer of this case also questioned if Tucker's religious zeal could have played a role in the decision he and his wife made not to get a doctor for baby Kristoff. The infant died from complications related to strep A, pus in the lungs, and a collapsed lung, the D.A. said.
———- ooo ———-
Another troubling aspect is the 37-year-old's fixation with fantasy figures, superheroes, and the dragons-wizards-anime-startrekstarwarsX-Men vibe, what THE PLANET calls "The Peter White Thing." Tucker's office at PCTV was loaded with dolls and action figures. As one person familiar with the office told us, "You want me to take him seriously? You go in his office and you see all this weird childish stuff. What adult brings his toys to his workplace? It's almost like walking into a 15-year-old's bedroom." We agree. Our times in Tucker's office gave us the creeps.
On his Linked In page, Tucker tells us he is "a geek, a life-long toy nerd and a forever kid."
When you do business with an organization, don't you want to be dealing with adults rather than those who give the impression of "playing at adult."
We asked Shawn Serre, PCTV's executive director, about Tucker's employment status.
"I have read and seen the same media reports that you have," Serre told THE PLANET. "In reference to your questions, I cannot comment on personnel matters.  All other questions are best directed to representatives of the judicial system."
No one on the PCTV Board of Directors has many any public comment, certainly not to THE PLANET.
An acquaintance of Tucker's told us of his fondness for "cosplay," literally, "costume play."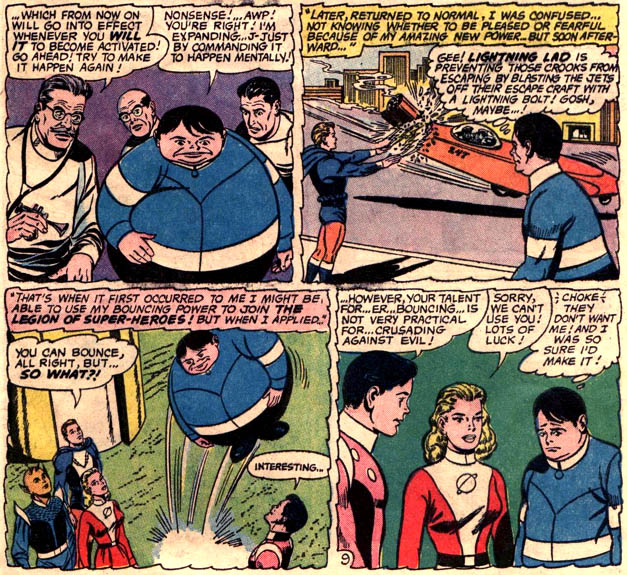 From Wikipedia:
"Cosplay is the practice of dressing up as a character from a movie, book, or video game. … Cosplay costumes vary greatly and can range from simple themed clothing to highly detailed costumes.
"It is generally considered different from Halloween and Mardi Gras costume wear, as the intention is to replicate a specific character, rather than to reflect the culture and symbolism of a holiday event. …
"Cosplay represents an act of embodiment. Cosplay has been closely linked to the presentation of self, yet cosplayers' ability to perform is limited by their physical features."
We wonder if Bouncing Boy from DC's Legion of Superheroes was one of Tucker's characters.
—————————————————————————————————-
"Meetings are indispensable when you don't want to do anything" — Economist John Kenneth Galbraith.
"OPEN THE WINDOW, AUNT MILLIE."
LOVE TO ALL.
The views and opinions expressed in the comment section or in the text other than those of PLANET VALENTI are not necessarily endorsed by the operators of this website. PLANET VALENTI assumes no responsibility for such views and opinions, and it reserves the right to remove or edit any comment, including but not limited to those that violate the website's Rules of Conduct and its editorial policies. PLANET VALENTI shall not be held responsible for the consequences that may result from any posted comment or outside opinion or commentary as provided in Section 230 of the Communications Decency Act and this website's terms of service. All users of this website — including readers, commentators, contributors, or anyone else making use of its information — hereby agree to these conditions by virtue of this notice. When PLANET VALENTI ends with the words "The Usual Disclaimer," that phrase shall be understood to refer to the full text of this disclaimer.