BY DAN VALENTI
PLANET VALENTI NEWS AND COMMENTARY
(FORTRESS OF SOLITUDE, MONDAY SEPT. 12, 2022) — While we've been distracted here in Berkshire County by the tumult of the sheriff and D.A. races, something happened that deserves commented by THE PLANET: Syracuse Joe's "divide and conquer" address last week.
The President goose-stepped in footsteps put down by Hillary's "sensible heels" in the 2016 presidential campaign. Remember her "basket of deplorables" bash?
On Sept. 1, in Philadelphia's Independence Hall no less, the President called  half of those who voted in 2020 "fascists."
"MAGA Republicans are destroying our democracy," he said of these these citizens, who had the audacity to exercise the franchise in disagreement. That includes 75,000,000 voters and exactly half (25) of the 50 states from the 2020 election.
Biden made his irresponsible statements because of pressure from extremists on the Democrat Left, a tiny cadre of activists who have hijacked the party, its centrists, and the befuddled president himself.  You don't think it could be a sign of electoral panic, do you, with November just two months away?
———- ooo ———-
Half of America is a threat to democracy? Yeah, let's talk about that.
Biden took office and promised to heal divided America. Some cure. He made it worse.
His most recent most actions are being compared to Nazi Germany's "Night of the Long Knives," when on Nov. 30, 1934, troops raided the home of Hitler rival Ernst Rohm and killed him. Biden, said Boston Herald columnist Peter Lucas, had his "Night of the Long Lies" when he authorized 30 armed FBI agents to break into Trump's home, unannounced, at Mar-A-Lago Florida, ransack the joint (including Melania's underwear), break into his safe, and remove boxes of "evidence" in the name of "national security."
Biden said he had no advance knowledge of the raid. Lucas: "Never in the history of the country has one president done this to another. And for Biden to say he had no 'advance' knowledge of the raid does not mean that he did not order it. Of course he knew about it. He ordered it."
Q: If the Justice Department suspected Trump of "espionage" and long knew of his theft of "nuclear secrets," why did they take more than two years to act on it? Were the thuggery tactics timed for the mid-term campaign?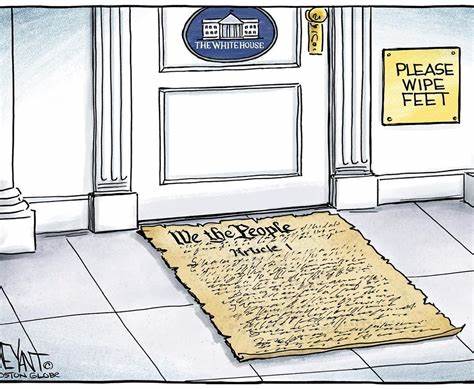 There's no credible evidence made public that such documents were in Trump's possession. And how do we know that the FBI, which has turned into the Democrats' SA, didn't plant documents? There were no cameras, no media, no independent witnesses. Lucas: "This is the same group of FBI politicians with badges who let Hillary Clinton walk after she destroyed some 33,000 subpoenaed emails when she was secretary of state. The same group that buried Hunter Biden's explosive laptop to protect Joe Biden and his cokehead son."
Nonetheless, it makes great headlines and pleased the radical left. What of the 4th Amendment's guarantee against unreasonable searches and seizures? Don't make us laugh. The Constitution lines bottom of The Squad's bird cage.
———- ooo ———-
When Biden took office and delivered his "healing" speech, we had great hope that went well beyond our Syracuse connection, a hope tinged with a heavy dose of experience with politics and politicians. Biden's "healing and unity" became more of the old "divide and conquer."
The message is clear in the radical left's vision of New Amerika: If it can happen to a former president, it can happen to Mary Jane and Joe Kapanski, meaning any American citizen. To beef up his army of brownshirts on the orders of Pelosi, Schumer, and the Squard, Biden is hiring 87,000 armed, additional IRS agents just to let you sleep comfortably at night.
No one in America is safe.
———————————————————————————
"It's all okay" — Novelist Hollis Hodges.
"OPEN THE WINDOW, AUNT MILLIE."
LOVE TO ALL.
Copyright (c) 2022 By Dan Valenti, PLANET VALENTI and EUROPOLIS MANAGEMENT. All rights reserved. The views and opinions expressed in the comment section or in the text other than those of PLANET VALENTI are not necessarily endorsed by the operators of this website. PLANET VALENTI assumes no responsibility for such views and opinions, and it reserves the right to remove or edit any comment, including but not limited to those that violate the website's Rules of Conduct and its editorial policies. Those who leave comments own all the responsibilities that are or can be attached to those comments, be they rhetorical, semantic, or legal. Such commentators remain solely responsible for what they post and shall be and remain solely accountable for their words. PLANET VALENTI shall not be held responsible for the consequences that may result from any posted comment or outside opinion or commentary as provided in, but not limited to, Section 230 of the Communications Decency Act and this website's terms of service. We serve as a marketplace of ideas, without prejudice, and available to all. All users of this website — including readers, commentators, contributors, or anyone else making use of its information — hereby agree to these conditions by virtue of this notice and their use of/participation in this website. When PLANET VALENTI ends with the words "The Usual Disclaimer," that phrase shall be understood to refer to the full text of this disclaimer.