BY DAN VALENTI
PLANET VALENTI NEWS AND COMMENTARY
ADD 1, Sept. 2, 2022 — Here's the latest PLANET VALENTI VIDEO from our YouTube channel. In it, I share an hour's worth of thoughts and notes on the campaigns for sheriff and district attorney. No notes. All improv. Just THE PLANET. Give it a watch. As always, all feedback is welcome. Subscribe to our channel now. It's still a toddler but growing fast. We will be providing much more content and viewing. You don't want to miss it. "Hey, somebody's gotta say it." Our next and final film related to the preliminary election will be posted on Election Day, Tuesday Sept. 6. We will be taking our camera to various polling places to conduct brief exit interviews. Stay tuned. The fun is just beginning.
Enjoy!
———- ooo ———-
(FORTRESS OF SOLITUDE, THE WEEKEND EDITION SEPT. 2, 2022) — On July 11, approximately three days into her sentence,  a 46-year-old Pittsfield woman died in custody at Chicopee's regional lockup for women. There's where Berkshire County sends its female population, which presently numbers between 12 and 14.
Shortly after, candidate for sheriff Alf Barbalunga blasted Berkshire County sheriff Tom Bowler, saying the woman's death "is part of a pattern of what happens to Berkshire County residents who find themselves in state or county jails." Barbalunga said that "on average, every 10 months there has been either a death or an escape" under Bowler's supervision.
Bowler excoriated Barbalunga for using "a family tragedy as fodder for his political purposes." Bowler said Barbalunga failed to mention that  "[t]his woman died from natural causes." Bowler said "The medical examiner ruled that her death was the result of natural causes due to a pre-existing condition." Hamden County Sheriff Nick Cocchi concurred. "Natural causes."
But did she die from natural causes? This question has haunted the campaign since it first emerged in July and exploded during the August debate THE PLANET hosted between Barbalunga and Bowler.
———- ooo ———-
THE PLANET obtained a copy of the death certificate, signed by Boston Dr. Irini A. Scordi-Bello. It lists the immediate cause cause of death as "PENDING." The form also has this: "Manner of Death: PENDING INVESTIGATION."
Our questions:
Has such an investigation been conducted?
If so, by whom and has it been released? (If it has, we missed it)
If not why not?
Death to "natural causes?" If so, why does the death certificate say that the manner of death is under investigation.
 Alf Barbalunga Speech 1 September 2022 – SD 480… (Courtesy of Thieves of Light Productions)
—————————————————————–
SIDEBAR (FROM WBUR)
Hampden County Jail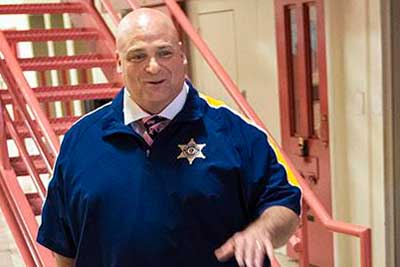 Current sheriff: Nicholas Cocchi
Total deaths 2008-2018: 22
Average inmate population (2018): 1,165
——————————————————————
A WBUR investigation by Christine Willmsen and Beth Healy found that from 2008 to 2018, 195 people died in custody of Massachusetts' sheriffs. WBUR said gathering that information (including cause of death) proved extraordinarily difficult.
"Jails are perhaps the least accountable part of government in the United States," said David Fathi, director of the ACLU National Prison Project. "When you combine that lack of transparency, that lack of oversight, with a marginalized, unpopular captive population, it's a recipe for neglect and mistreatment."
The WBUR probe mentioned the case of an inmate in Worcester County who died "in agony" of a treatable type of meningitis after jail staff ignored his complaints. The sheriff's report said the death came from "natural causes."
Sound familiar?
So what, if anything, is being covered up in the Pittsfield woman's death?
——————————————————————-
——————————————————————–
The investigation found that "when people suffered from dire medical conditions in Massachusetts county jails, they were often ignored or mistrusted, with fatal consequences. The sheriffs … responsible for inmate health care face little oversight, and often have withheld the circumstances of these deaths from the public — even from inmates' families."
Is that what is happening in the Pittsfield case?
———- ooo ———-
Where's the report?
From the WBUR investigation:
"The federal Death in Custody Reporting Act requires the government to collect data on the more than 1,000 inmates who die every year in American jails. Sheriffs have been required to file a form called a CJ-9, which provides the inmate's name, age, race, cause of death and other information.
So where's the report on the death of the Pittsfield woman?
According to WBUR, "compliance by the roughly 3,000 U.S. jails has been voluntary. The DOJ's Bureau of Justice Statistics … has no enforcement teeth. The result is that an unknown number of deaths go uncounted, and since 2014, reports have been years late."
Voluntary reports.
Delivered late, if at all.
Written up, according to one lawyer quoted in the report, to be "all self-congratulatory."
Did negligence occur in the Pittsfield woman's death? The public in Berkshire and Hampden counties, to say nothing of the woman's family, deserve a full report.
Have a great weekend, everybody.
——————————————————————-
Everywhere we've lived takes on a certain shape in our memory only some time after we leave it. Then it becomes a picture that will remain unchanged" — Hermann Hesse.
"OPEN THE WINDOW, AUNT MILLIE."
LOVE TO ALL.
Copyright (c) 2022 By Dan Valenti, PLANET VALENTI and EUROPOLIS MANAGEMENT. All rights reserved. The views and opinions expressed in the comment section or in the text other than those of PLANET VALENTI are not necessarily endorsed by the operators of this website. PLANET VALENTI assumes no responsibility for such views and opinions, and it reserves the right to remove or edit any comment, including but not limited to those that violate the website's Rules of Conduct and its editorial policies. Those who leave comments own all the responsibilities that are or can be attached to those comments, be they rhetorical, semantic, or legal. Such commentators remain solely responsible for what they post and shall be and remain solely accountable for their words. PLANET VALENTI shall not be held responsible for the consequences that may result from any posted comment or outside opinion or commentary as provided in, but not limited to, Section 230 of the Communications Decency Act and this website's terms of service. We serve as a marketplace of ideas, without prejudice, and available to all. All users of this website — including readers, commentators, contributors, or anyone else making use of its information — hereby agree to these conditions by virtue of this notice and their use of/participation in this website. When PLANET VALENTI ends with the words "The Usual Disclaimer," that phrase shall be understood to refer to the full text of this disclaimer.